Due to the current situation, more and more employers are sending their employees to the home office to protect their health and reduce the risk of infection. For many employees working at home is a new challenge and there are a couple of things to be aware of. Below you can read on how to prepare yourself and your employees optimally for the home office.
For several years we have been working closely with our partner company Wiegel Arbeitskultur, which can assist with all questions concerning company health management. Due to the current circumstances, we would like to inform you about the topic:
"Working at home. Home office – joy or sorrow?" written by Martina Wiegel.
Many of your employees are currently working from home and consequently have changed their working conditions, some of which can be a physical strain. A lot of people are complaining about shoulder and neck problems as well as lumbar spine pain.
Surely you are interested on how your employees are doing in this unusual situation and how they are feeling right now.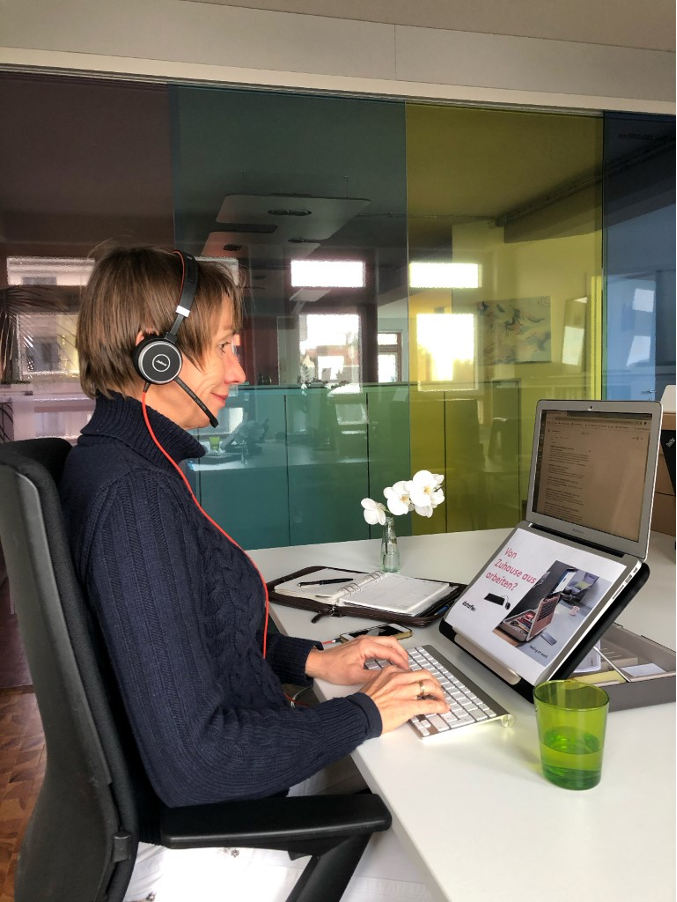 In order to be able to advise the employees at their workplaces at home, Martina Wiegel offers individually created videos entitled "Tips & Tricks for healthy work in your home office". The subjects could be:
The choice of the right workplace
Important rules for working at home
Setting up a sitting workstation (chair, screen height and distance, etc.)
Setting up a standing workstation
Compensatory exercises for the eyes and body
She creates very individual videos, addresses the employees personally and could also create an additional script with your company`s logo.
Webinars are also possible: Up to 15 participants can join the webinar and are able to send a picture of their current workplace as well as ask any question in the chat. Martina Wiegel will answer the questions as well as give feedback about their workplaces. This also allows you to get an idea of your employee's mood and on how they are currently doing in their home office.
Sabrina Gall from the Munich Leadership Factory interviewed Martina Wiegel about the above-mentioned contents under the title "Fit and efficient in the home office". In this interview you can experience the application-oriented teaching of the contents in an exemplary way. The following link will get you to the video: https://youtu.be/QBOroDheUKI
If you are interested, Martina Wiegel will be pleased to offer you a personal telephone call, where individual wishes can be discussed together.
Please feel free to contact her with any questions or problems. Together with her professional network she will then work out solutions and respond to you.
You can find further information on her homepage at https://www.martinawiegel.de/
Martina Wiegel and the Intechnica team wish you a good time in your home office. Stay well.